Mirror Hanging Service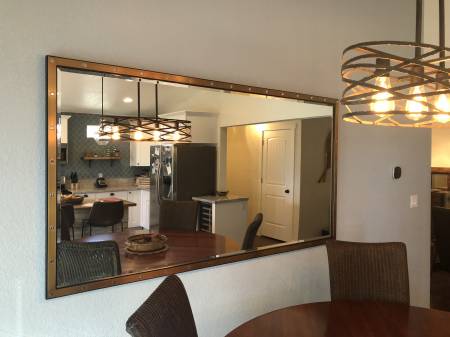 Hanging a heavy mirror is often a difficult and dangerous installation process. With Pro Picture Hanging LLC in charge of your installation, you can rest easy. Our mirror hanging methods are completed safely and securely every time.
We perform a thorough analysis of your walls to determine what's behind them. We us an electrical sensor and, if needed, a video inspection camera to locate the studs for a safe installation. By using these tools we avoid accidents from drilling into plumbing, ductwork, and electrical wires.
We never use any type of wire (this method can fail and cause serious damage and injuries). We use heavy duty fasteners based on your mirror's weight, installed in a minimum of two wall studs. We stock several sizes of D-rings if we need to add or replace them for safety and quality.
We use high-quality laser levels (I prefer the Bosch Laser Level GLL215) to ensure your art is perfectly level.
Hanging a wall mirror sometimes requires the use of a specialty fastener, such as a French cleat.
Our expertise includes:
Mirror sculptures
Mirror groupings
Mirrors hung on doors
Heavy mirrors on any surface (including rock, brick, and stucco)